Markowitz Portfolio Optimization Applied On Companies Listed On The Indonesia Stock Exchange LQ-45
Hadi Ahmad Sukardi

Universitas Sangga Buana YPKP Bandung

Maya Sari

Universitas Pendidikan Indonesia

Nugraha Nugraha

Universitas Pendidikan Indonesia

Imas Purnamasari

Universitas Pendidikan Indonesia
Kata Kunci:
Portfolio, Markowits, Returns, Risk
Abstrak
Optimisasi portofolio merupakan pendekatan yang sangat penting dalam pengelolaan investasi yang bertujuan untuk mencapai keseimbangan optimal antara risiko dan imbal hasil. Salah satu model optimisasi portofolio yang terkenal adalah Model Markowitz, yang dikembangkan oleh Harry Markowitz pada tahun 1952. Dalam artikel ini, kami menerapkan Model Markowitz pada perusahaan-perusahaan yang terdaftar di Bursa Efek Indonesia LQ-45, yang merupakan indeks yang mencakup 45 perusahaan terbaik di Indonesia. Tujuan dari penelitian ini adalah untuk mengidentifikasi portofolio yang optimal dengan tingkat risiko minimal atau tingkat pengembalian maksimal, berdasarkan data historis saham perusahaan-perusahaan yang terdaftar di LQ-45.
Abstract
Portfolio optimization is a very important approach in investment management that aims to achieve the optimal balance between risk and return. One of the well-known portfolio optimization models is the Markowitz Model, which was developed by Harry Markowitz in 1952. In this article, we apply the Markowitz Model to companies listed on the Indonesia Stock Exchange LQ-45, which is an index that includes 45 of the best companies in Indonesia. The objective of this study is to identify the optimal portfolio with minimal risk or maximum return, based on historical stock data of companies listed in LQ-45.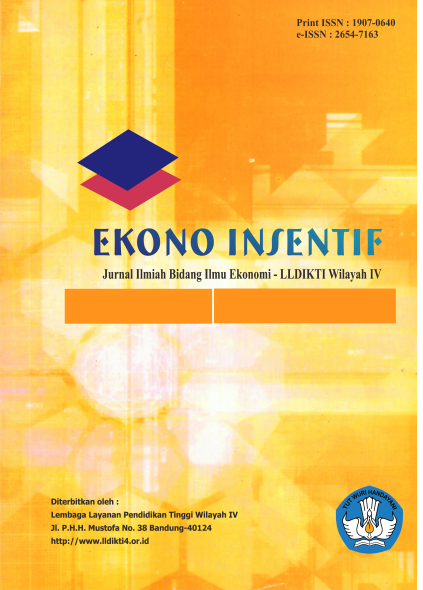 Cara Mengutip
Sukardi, H., Sari, M., Nugraha, N., & Purnamasari, I. (2023). Markowitz Portfolio Optimization Applied On Companies Listed On The Indonesia Stock Exchange LQ-45. Ekono Insentif, 17(1), 34-48. https://doi.org/https://doi.org/10.36787/jei.v17i1.1109